Architectural Fibreglass (GRP)
Fibreglass (GRP) can fulfill a range of other architectural uses and brings convenience, durability and cost-saving. Its architectural and decorative functions range from sheets of tiling, brick or mosaic, to ornate features such as cupolas and pillars.
Tile or Brick-effect Fibreglass Sheets
We make GRP sheets in various finishes such as tiling, painted wood or brick, which can be applied to walls quickly to give a striking look.  The result is a waterproof, wipe-clean, low-maintenance and good-looking wall.  It is ideal for corridors, washrooms and washing areas.  It can also be a solution where a brickwork look is wanted but without the weight.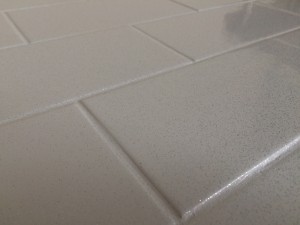 Tiling
Sheets are made in smooth plain solid colours.  Grouting can be painted on afterward.  Our standard tile sheets is 8′ x 4 but other sizes are available (4′ x 4′, 6′ x 4′,  2000mm x 1000mm, or bespoke).  An 8′ x 4′ sheet in a plain colour would by £210+delivery and VAT (£400 a pair).  An 8′ x 4′ sheet with painted grouting would be £475.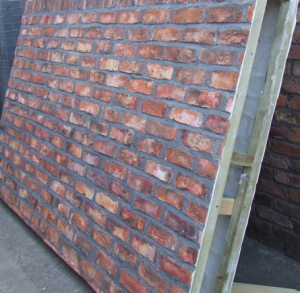 Old Fashioned Brickwork
These brick walls come in an 8′ x 5′ sheet, 8′ x 4′ or 4′ x 4′ sheets.  These here were made in 'whitewash' for Coronation Street sets and were painted up by their art department to look like brick and mortar.
An 8′ x 4′ sheet in a plain, painted finish is £260 +delivery (£240/sheet for orders of 10 or more).
Modern Brickwork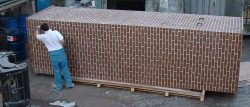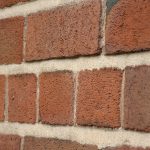 A modern looking brick can be made in either in a plain 'painted look' colour (£260 for an 8×4′ sheet, £240/sheet for orders of 10 or more).  We can supply single sheets in brick red and with the mortar lines painted in (£475 for an 8×4′ sheet)
Make Your Own
You can make an 8′ x 4′ sheet in your own pattern – timber effect for example.  These can have a flange on the unfinished face so that you can bolt one sheet to the next.  The recess formed by these flanges can be used to contain timber  insulation such as Kingspan.  A mould suitable for a short production run costs £80 to make and each sheet produced thereafter is £290+delivery.  These can be reinforced with encapsulated ply for an additional £44 / sheet.
Translucent Fibreglass.
Whilst not as clear as real glass, it is a lot cheaper than acrylic and poly-carbonate clear plastics.   It is useful where frosting or colouring is wanted or acceptable, where real glass may not be appropriate, or where weight is an issue.  For example, the lightly frosted sheets can make a useful outer shield to stained-glass windows.  If you do want a clear plastic, we would use a clear acrylic instead.
Signage, Plaques, Memorials and Grave Markers.
Fibreglass signs offer the choice of colours and effects (such as stone, brass or bronze) whilst needing no maintenance; each sign comes with a 25 year guarantee.  GRP is often used to give strength with a light-weight material, but it is easy to add weight to the mix to give weight or a heavy feel where it is wanted or appropriate.