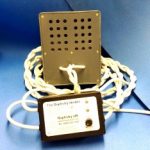 THANK YOU for buying a BaptistryUK portable pool heater.  To activate the 12 month warranty, please complete the form below.  This is not for emailing you every verse end, nor will it be shared with anyone, it's just to replace the paper form that customers had to fill in and post back to us.
Important stuff:
BaptistryUK warrants this product to be free from defects in materials and manufacture under normal use for a period of one (1) year from the date of dispatch.
During the warranty period BaptistryUK will repair or replace the product if defective.  If replaced, the replacement will be with a product of equal value.  However, BaptistryUK is not responsible for any consequential damage arising from ownership.
This warranty is limited to the purchaser and is not transferable.
Please sign and return slip below to validate your warranty:
---