Many churches have a leaking baptistry, often made with concrete and tiles.  If the grouting isn't repaired regularly, water often seeps away.  Even if the baptistry isn't leaking, it may look tired and the tiles cracked.  We can come to site and re-line the baptistry in fibreglass, in the colour of your choice.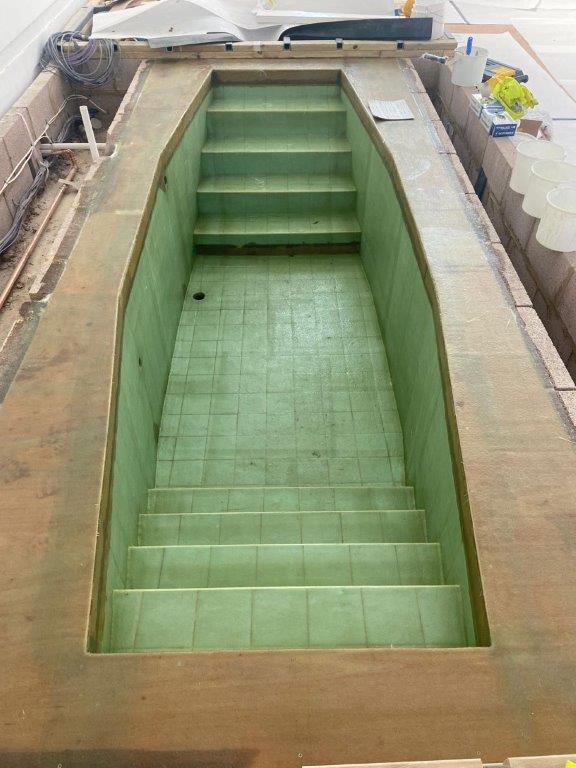 No Maintenance. The advantage of GRP is that the pool is sealed and you do not need to replace the grout every few years.
Better still, concrete pools usually have no insulation.  We can add insulating foam and then re-line with fibreglass. This will make heating the water in the pool quicker and cheaper.
You can repair and insulate your baptistry and have no maintenance going forward.
If the plumbing on the old baptistry leaks and you want to stop using it because it can't be repaired, we can cover it over and form a sump in the floor pool.  You can then use a submersible pump and piping to empty the pool.
Lids. We can usually reline your baptistry without upsetting the lids. Otherwise, they may need some adjustment. Many churches often take the opportunity to have a new set of fibreglass lids made at the same time.
How much would relining cost? This depends on the size of the pool and where you are (travel cost) but is a lot less than making a new fibreglass baptistry. If you send us the dimensions of the pool and some photos of the pool, we'll work out the cost. When taking photos, we need to see if there is any other plumbing in there, and we need to see how the current lids are held in place.
The dimensions we need are the length, breadth and depth of the pool (don't forget the steps) and the thickness of the current lids.
DIY. We also make up kits so that you can reline your baptistry yourself. We would need the same information to make up the kit and to advise.