Churches meet in all sorts of buildings, often the building is multi-purpose.  If your church building has an open, concrete floor with a stage area at one end, a mobile baptistry may be more suitable.  Our 'in the ground' baptistries can be easily adapted with a strong sub-frame and heavy-duty castors (with brakes!)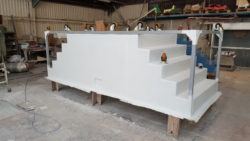 The churches who have ordered these, push the baptistry up against the side of the stage and enter from there.  When not in use, it is pushed to the side of the auditorium so the space can be used flexibly.  They can even be used as an extension to the stage.
The added advantage of mobile baptistries is that they're future-proof.  They're not fixed in one spot if you need to change the layout of the worship area.  And they can move to new buildings as the church grows or moves on.
In terms of cost, it is no more expensive than the same baptistry made to be put in the ground because, usually, you wont need lids.  The cost of the sub-frame and wheels is offset by the saving on the lids.
And, you save on installation costs because there need be none of the excavating and building costs you have with an in the ground baptistry.
In terms of emptying, there are other advantages.  You can pump out the water.  But you can also have an outlet in the base with a sturdy valve.  You can either push the baptistry into the carpark, or you can attach flexi-hose to the valve and drain it off outside into a drain.
Our Altar Baptistries are smaller, mobile baptistries made to look like a Lord's Table.
Contact David via the email address or phone number above or via the Contact page.