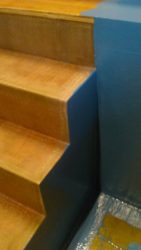 Churches are full of very talented people and we do have a precedent for a carpenter!  A DIY baptistry is an option.
Baptism is such a powerful witness that all churches want to have the means to offer it.  We make and hire pools but maybe you'd like to make your own?
We make kits of fibreglass, resin coat and the tools needed so that you can line your pool in GRP.
The DIY Baptistry Kit contains 2 layers of chopped strand mat bonded with a general purpose resin, a final gel top coat, and the necessary tools.  The kits are put together to match the pool size you want.  To give you an idea of price, the kit for a pool 2m x 2m, x 1m  deep would cost £960 with free UK mainland delivery.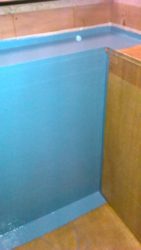 Fibreglass is simply better than tiling in every way and will stay waterproof for many years without maintenance and regrouting.  The default colour is pastel blue but other colours from the RAL Classic range are possible.  Tile finishes are applied to concrete or blockwork and have no insulation, which makes the heating of water expensive and wasteful.  Fibreglass lining can go over timber or hard foam (which we can also supply) to give you an insulated pool.
Contact us on the email at the top of our page, by phone 0345 230 1381 or via the Contact page