Ex-hire Baptistries
Two-in-One baptistry.  Galilee baptistry – 6 panels, nuts and bolts, liner(s), base pads and floating cover.  Or take out two extension pieces and you have a compact round pool. Liner for that included too! The circular pool is 5′ across and the extended pool is 5′ wide and 7′ long – so long enough for the tallest adult candidate and wide enough for three people.  It is quick to set up and fill and it comes with insulated sides.  So, if you have any hot water in the building, you can cut the heating times.  With the 5′ version you could probably get away without a heater altogether! This is ideal for churches who meet in borrowed rooms.  It is transportable and will easily go in a people carrier but can be fitted into a Ford Fiesta with the back seats down!
We have an ex-hire one for sale with a blue fibreglass outer. (This could easily unscrewed and replaced with a plywood outer.)  The price is £1150. VAT already included. There are various options for delivery.
The Nonagon is the workhorse of our pools and  the most popular.  It packs down well but also gives plenty of space when set up, with enough room for 3 people in the pool.  One of our Nonagons needs to be retired and is on sale at the very low price of £540 (VAT already included) and with free UK mainland delivery.  The sale is of 9 panels, fastenings, a nearly new liner and base-pads.  The panels are in mid-brown and with a wood-effect.
Replacement panels are always available £126+delivery and VAT each – which shows what a saving this is!
New liners are always available at £164+delivery and VAT.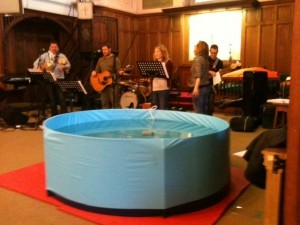 The Ultraflat is designed as a budget baptistry for churches on a very tight budget, so it is always a discount baptistry!  We are discontinuing this line and have one left in stock – a 5-panel version (188cm diameter) for £700 (VAT already included)
If you would like NEW pump and pipe, or any other equipment, see the KITS page.
You may also be interested in contacting

WoodenBaptistery

  as they have a range of portable baptistries.  The reason we recommend them is that they have asked us to put together kit bundles of baptistry equipment (heaters, pumps, pipes, etc), so we do get something out of it!
Contact us on 0345 230 1381 or via the contact form below