Railings, Balustrades, Cafe-barriers and Metalwork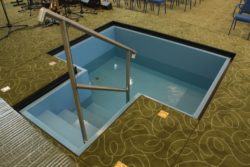 BaptistryUK make handrails and balustrades for baptistry steps and surrounds.  These slot into place when needed and then can be removed once the baptism is over.
We use sturdy wall-mounts or cup-sockets in the ground to securely anchor the handrail.  The handrails slot in and out as needed.  The mounts and handrails are made in stainless steel and can withstand being submerged in water.
Aside from a handrail on steps, you might want balustrades around the pool or the stage.
 'Cafe barriers' are a useful way of quickly organising and guiding visitors to your church.  Or to cordon off an area, perhaps for a party or function.
These barriers can be decorated with a banner with the church's own design or welcoming message.
All our barriers are in 316-stainless steel, which will withstand being submerged never mind being weatherproof!  They are guaranteed for workmanship for 10 years.
A cafe barrier would comprise 2 vertical posts and 2 horizontal bars that slot onto them.  The banner (in vinyl or polyester) would be held on the two horizontal bars.  The whole could be put up, or taken down, quickly.
All our handrails and barriers have a choice for mounts – wall mounts, cup-sockets and weighted circular feet.
These handrails, balustrades and cafe-barriers are always made to your preferred dimensions.  Though we have sets of cafe-barriers at 1200mm wide / 1500mm wide and 1800mm wide.
The vertical posts (including choice of socket) are £240 each,  crossbars are £140/m.  A vinyl banner 1m wide is £25.  If you have and supply one design for all your banners, the artwork is free.