Ultraflat Budget Baptistry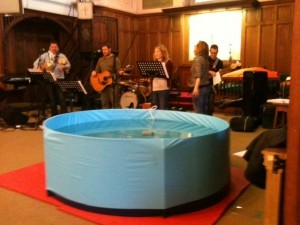 The Ultraflat: The best budget option we can design, it uses a GRP sheets and to create solidity at a lower price point.
We are now concentrating on large baptistry tanks, baptistry hire and high-end portable baptistries.  WoodenBaptistery now have the moulds for these pools and we would direct you to them.
When you need to get up and running without much outlay the Ultraflat delivers. It's quick to set up and easy to store, so you can get baptising anywhere… at church, in a hall, in a carpark, who knows!
Our flat GRP panels bend to create a rigid circular form with a strong liner covering the whole surface. To keep your costs low, we offer a basic package with the panels, nuts and bolts and the liner. You can choose whether you want to add other elements like pumps, piping, cover, heater and so on.
There are also two options for you – the four panel version or the five panel version. A blue liner is in with the price, other colours and patterns are available for a small addition.
Dimensions:
Capacity: 950L / 1500L
Size when set up: Four panels are 150cm across or five are 188cm across, both are 65cm deep
Size when flat:  Panels when flat:
Equipment box: 75x45x35cm
Rough estimates for you:
Rating for set up: Straightforward – it needs two people and a good space to bend the panels
How long to set up? Around 15 minutes for two people
How long to fill? Between 45 minutes and an hour
How long to heat? At best around 5 hours; at most around 8 hours
(see our blog for tips on heating)
Optional extras:
See our Kit Box bundles for pumps, pipes, heaters, etc.