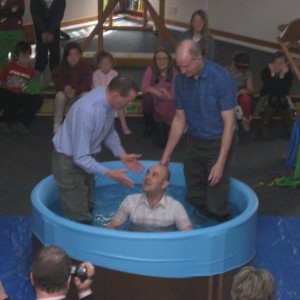 The 5′ Round: very quick to set up and plenty insulation, so it's perfect if you're hiring a space for your event.  It is ideal if, because of Covid-19, you want to empty and refill between baptising each candidate.  The insulation means that you probably won't need a heater if you have a hot water supply via a combi-boiler supply.
The 5′ Round is made for customers using a hired space. It's fast and easy to put up, robust, insulated and still big enough to baptise an adult with attendants.  The candidate kneels and is lowered sideways.  It was also designed for young people and those who are less mobile, as the sides are lower than our usual pools and are covered with foam.
You get the full reassurance that, in over a decade of regular use, we've never seen a leak thanks to the strong double liner. And, because of the great insulation, you may not need a heater at all, as long as you have access to hot mains water.
Dimensions:
Capacity: 1000 litres
Size when set up: 150cm across and 67cm deep
(If greater depth is important, there is a bespoke 80cm deep tank for purchase)
Size when flat:  4 panels when dismantled:
Equipment box: comes on a pallet
Rough estimates for you:
Rating for set up: Very easy
How long to set up? Around 10-20 minutes for two people
How long to fill? Around one and a half hours
How long to heat? You may not need heating if you have access to mains hot water.  Otherwise, with a heater, between 6  and 12 hours.  (See our blog for tips on heating)
Everything included for you:
4 panels; double liner; nuts and bolts; foam base mats; a submersible pump; 15m layflat hose; an insulating floating top.
---
The Old Galilee

This model has been replaced by
the FlatPack Galilee.
If you would like to buy this pool, please contact  woodenbaptistery.co.uk .  They have the moulds for this baptistry and could make you one.
Also, their 'Ben's Boat' Baptistry is the same shape but longer, wider and deeper.
Remember to buy your equipment kit from us! 
 Optional extras if buying:
See the kits page
A video from Potters House, Wandsworth showing the Galilee baptistry in action.