Save on hires – buy your own baptistry liner
15th January 2020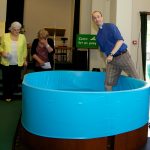 Buy your own baptistry liner and get £50 off each future hire.
Reduce the risk of transmitting Covid-19
Save on future hire.
Reduce the risk of leaks.  Have the peace of mind from knowing that the liner hasn't run the risks associated with being hired and couriered.
Prices for plain blue liners:
Nonagon liner £168,
Croydon (10-sided) £185,
Flat-pack Galilee /£130 (0.5mm thick) / £95 (0.35mm thick – ideally, you'd have 2 of these on at once).
Free delivery with the hire.
Won't that limit my choice of pools in future?
Most churches have the same model of pool each time, so buying the liner doesn't limit ones choices.  But we will always keep a stock of clean hire liners, so if you ever need or have to have another model of pool, we would send you a hire liner at no extra cost.  You would still get £50 discount even if you couldn't have your model of pool.
Also, all our liners fit with the pools made by Wooden Baptistery.