Delivery and Couriers
23rd May 2017
Current Courier
After using FedEx for over 6 years we have had major problems with them over Easter.  Hopefully, customers will not have noticed.  However, FedEx implemented a new online booking procedure and, in short, it was chaotic and their pricing and billing system has become erratic and unreliable.  What is clear is that it has been a cover a for a price hike.
Looking At Pallet Services
To send a Nonagon pool now would cost £140 there and back whereas it used to cost £100.  To send the old Galilee pool, we were recently charged over £300 instead of £120!  We are urgently looking at other carriers and it is likely that we will have to use a pallet service as the default carrier.  This has three immediate benefits: it is cheaper; the delivery is within a much narrower time-window; the baptistry is easier to repack for the return to us.  The down-side is that a customer must be able to receive a pool on a pallet.  The carrier will have a tail-lift on the lorry and a pallet truck and will deliver to the foyer on the level.  For customers who can receive and return on a pallet, we are looking at other carriers who can cope with such large consignments.
Two (or Three) other pieces of better news.
As all this may wish you could buy the pool, we are putting together a way for customers to buy in instalments over more than the 3 months currently offered.
The lease scheme is better value than hiring if you use the pool more than 3 times per year, and whilst it is a 5 year lease, there is an opt-out at 3 years.
The Galilee baptistry, which was very popular because it was quick to set up and had a double-liner system has become too expensive to send with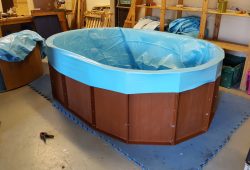 FedEx because the curved panels result in big, bulky boxes.  Hitherto, FedEx were the only 'parcel' carrier who would deal with boxes of this size, now they seem to be charging silly prices.  To help matters, we have redesigned the pool to give the new Flatpack Galilee.  At the same time, we've made changes to the dimensions – the new flatpack Galilee is 78cm deep (the same as the Nonagon and Croydon pools) because some felt the depth of the Galilee a little on the shallow side.  It is also a wee bit longer and broader. at over 7′ long and 5′ wide internally, this is a very spacious baptistry that stores well.