Fibreglass brickwork
1st March 2016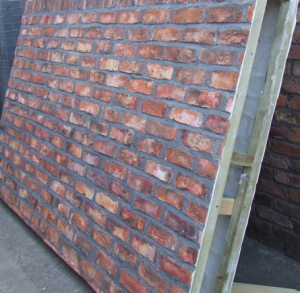 Fibreglass (GRP) is such a wonderfully adaptable material for use in building, architecture and engineering.  If you would like sheets of brickwork to give you the look of a brick wall quickly and cheaply (and without the weight!), then we can help.  These can be supplied either as sheets or made up as walls (pictured).   We also make sheets of fibreglass tiles so you can tile whole walls in minutes.  Painted wood effect panels is another favourite!
Metal-effects with Fibreglass.
We can also incorporate metal-effect films into the GRP allowing us to make signs or plaques (or whatever takes your fancy!) that appear to be brass or bronze, for example.