Heater Redesign – what happened to the little 2.4kW?
18th October 2018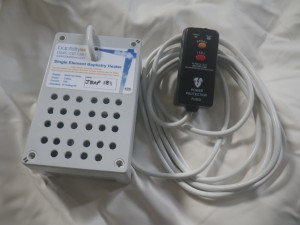 As regular customers will know, we've been selling a range of baptistry water heaters to cover a range of pool sizes, and of church budgets! The 2.4kW heater was made with a simple temperature cut-out which meant that the heater would switch off about 39°C. The water temperature would then drop until the thermal cut-out cooled enough to switch back on again and re-warm the water.  But some churches were finding that the amount of time (and, therefore, the drop in temperature) between cutting out and switching back on again was too long.  We've come to the decision that they are a false economy and that churches would be better spending a bit more and buying one with the control box, which keeps the temperature more tightly controlled.
Bespoke versions of this water heater for specialist applications, where a different cut-out temperature is required for example, can still be made.