Ex-hire Nonagon Baptistry for Sale
23rd October 2018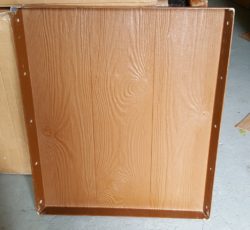 The Nonagon is the workhorse of our pools and  the most popular.  It packs down well but also gives plenty of space when set up, with enough room for 3 people in the pool.  One of our Nonagons needs to be retired and is on sale at the very low price of £540 (VAT already included) and with free UK mainland delivery.  The sale is of 9 panels, fastenings, a nearly new liner and base-pads.  The panels are in mid-brown and with a wood-effect.
Replacement panels are always available £126+delivery and VAT each – which shows what a saving this is!
New liners are always available at £164+delivery and VAT.